LSWG JEANS DAY for Charity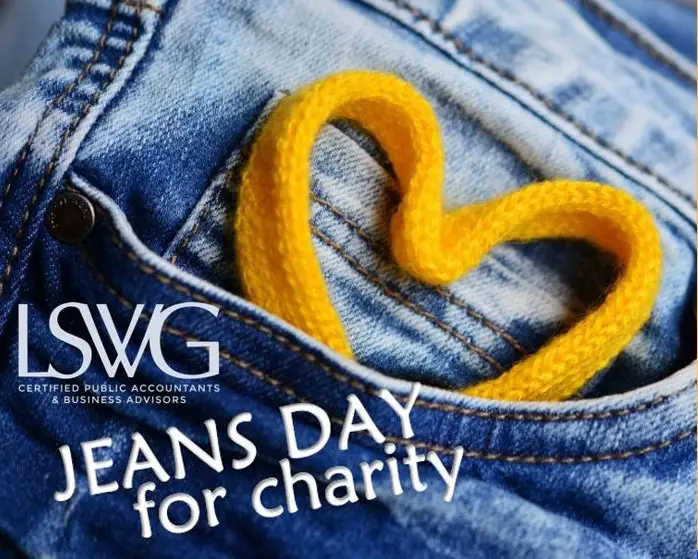 Relax and give. That's the idea behind LSWG's JEANS DAY for Charity.
Thursday, July 15, 2021 – As a CPA firm, we at LSWG typically adhere to a conservative, professional dress code. So when LSWG principal, Eva Webb, suggested last June that we consider instituting the popular Jeans Friday program, a lot of us looked forward to the idea of a comfortable, casual-attire day at the office—especially after so many staff members had spent several months comfortably working from home. The idea was to raise funds for local nonprofits—whose fundraising efforts were severely scaled back as a result of COVID restrictions, while relaxing the employee dress code over the summer months when clients rarely come into the office.
A very simple program, LSWG's JEANS DAY for Charity gives all LSWG employees (principals and staff) the option to wear jeans to work on Fridays. Those wearing jeans then donate a minimum of $5 to that month's designated charity. Nonprofit organizations are nominated by LSWG employees, who then select one charity for each month.
By the end of August 2020, close to $2,000 was raised and donated to three different nonprofit organizations. Given the success of the fundraiser and the boost in morale, the firm decided to keep the program going. To-date, LSWG principals and employees have raised and donated over $7,000.
It is not a huge amount of money in the grand scheme of things, but we believe that every little bit helps. If you would like our employees to consider your nonprofit for LSWG's JEANS DAY for Charity, email us at nonprofit@lswg.cpa, subject: "LSWG JEANS DAY for Charity."