LSWG ANNOUNCES NEW STAFF MEMBERS
LSWG is pleased to announce the addition of David A. Wolford.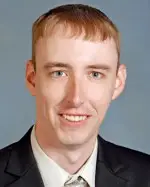 David A. Wolford has joined the Small Business Services Department in LSWG's Frederick office, providing accounting services to LSWG's owner-managed business clients. He specializes in payroll, general ledger write-up, and financial statement preparation. Mr. Wolford is a graduate of Frostburg State University where he earned a B.S. in business administration in 2010 and a B.S. in accounting in 2013. Prior to joining LSWG, Mr. Wolford managed a franchise restaurant in Hagerstown. He is a native of Hagerstown, where he currently resides.
Linton Shafer Warfield & Garrett, P.A., is a full service tax, accounting and business consulting firm with offices in Frederick and Rockville. Locally-owned and operated, the firm, whose origin dates back to 1965, offers a full range of advisory services with specialized teams coordinating services to closely held businesses, nonprofit organizations, governmental agencies, trade associations, and individual clients. The Frederick office is located at 201 Thomas Johnson Drive and can be reached at 301.662.9200, or online at www.LSWGcpa.com.