LET'S GO, CAPS!
"Lord Stanley is in the house!"
LSWG's most avid Caps fans, Angela Murphy, Dave Laramore, Billy Harper, and Steven Eader, are pretty pumped up about tonight's Game 5 of the Stanley Cup Final.  The Caps lead the Knights 3 games to 1.
When the Vegas Golden Knights and the Washington Capitals take the ice tonight, the sport's top prize* will be in the building.
Angela, Dave, Billy and Steven are Rockin' the Red around here!     (…DQ is probably pretty happy to be on vacation–and not just because he can use the R&R…)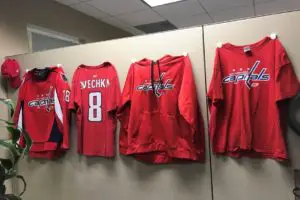 ___________
*LSWG supervisor, Steven Eader, provided those not as versed in the sport of hockey a little history lesson on the Stanley Cup: "The Stanley Cup, the championship trophy awarded annually to the NHL playoff winner is the oldest existing trophy to be awarded to a professional sports franchise. The trophy is named after Lord Stanley of Preston, then Governor General of Canada, who donated it as an award to Canada's top-ranking amateur ice hockey club. Also referred to as The Cup, Lord Stanley's Cup, The Holy Grail, or Lord Stanley's Mug."