Inside LSWG – September 2022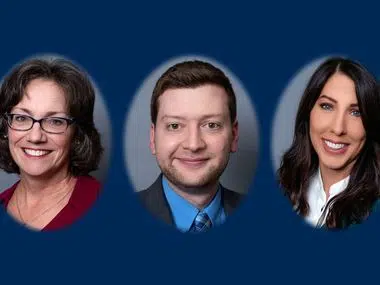 Thursday, September 15, 2022: Join us in welcoming Tina Popkin, Drew Mullen, and Kim Johnston
Christina (Tina) Popkin joined LSWG as a staff accountant in our Frederick office in June of 2022. Tina is a Certified QuickBooks Online ProAdvisor and assists with client accounting services and tax preparation for individuals. Prior to joining LSWG, Tina spent over 15 years in the mortgage servicing industry, and another 15 years teaching as a corporate trainer and substitute teacher. She has an A.A. degree from Skagit Valley Community College, in Washington State; and an A.A.S. in accounting from Frederick Community College where she graduated with high honors in May 2022. The daughter of a Navy man, Tina moved around a good bit while growing up – including a few years in the Philippines – before the family settled in the Pacific Northwest. Now residing in the Lake Linganore community of New Market, Tina and her family (husband Lee, sons Liam and Ethan, and their menagerie of pets) enjoy getting out in nature and traveling. A black belt in Soo Bahd Do, Tina likes to be active and enjoys getting out on the pickleball courts.
Andrew (Drew) Mullen, CPA, joined LSWG as a staff accountant in our Rockville office in July. He provides audit and assurance services to LSWG's nonprofit, governmental, and closely-held business clients. Prior to joining LSWG, he provided AP/AR support to a distributing company while attending school and studying for the CPA exam (which he passed earlier this year). Drew is a graduate of Montgomery College, where he earned an A.A. in business in 2014, and the R.E. Smith School of Business at the University of Maryland, where he earned a B.S. in accounting in 2016. A life-long resident of Damascus, where he currently resides, Drew is looking forward to some free time and catching some Washington Capitals hockey games now that he has earned his CPA certification.
Kimberly (Kim) Johnston joined LSWG in 2022 as an Executive Assistant in our Frederick office. She has 20 years of corporate administrative, mortgage banking and project management experience. At LSWG, Kim supports principals with various administrative tasks to assist the firm with meeting goals, maintaining client relationships and community engagement. A graduate of Catoctin High School and life-long resident of Frederick County, Kim currently resides in Point of Rocks with her husband, Steven. She enjoys spending time with their daughter Brooke, and 2 dogs; Titan, an English Mastiff and Oreo a Malshi. In her free time she can be found working in her garden, attending car shows or dining at her favorite local Mexican restaurant. Kim prides herself on building strong relationships and is looking forward to engaging with the LSWG team, our clients and the community.
Join us in congratulating Ryan Dodd and Jocelyn Castillo, who have been promoted to Staff Accountant II in our Frederick Office.
Ryan Doddjoined LSWG as an intern in the midst of the 2021 tax season. In June of that year, he accepted the staff accountant position in LSWG's Frederick office. For the past year, Ryan has been honing his client accounting skills and has become proficient with LSWG's digital online accounting service, Book$mart. Ryan was also instrumental in the branding of the service. Ryan came to LSWG with a background in teaching, most recently as an assistant professor at Gettysburg College. He is a graduate of The Evergreen State College in Olympia, Washington, where he earned a B.A. in economics and philosophy, and the University of Missouri-Kansas City, where he earned a Ph.D. in economics. Originally from Milwaukee, Wisconsin, Ryan currently resides in Frederick, where he enjoys sharing his free time with his son, Elic.
Jocelyn Castillo joined LSWG in 2021 as a staff accountant shortly after graduating from Mount St. Mary's University with a B.S. in accounting. Since joining the firm, Jocelyn has been a quick study, assisting with tax preparation and audits of the firm's individual, business, and nonprofit clients – all while continuing her studies towards a master's in accounting at the University of Maryland Global Campus. A native of Frederick – and graduate of Governor Thomas Johnson High School — Jocelyn continues to reside in Frederick and enjoys spending her free time with her family — including her two dogs, Milo and Singo.
Join us in bidding farewell to Jeanne Hall
After nearly 23 years as LSWG's marketing and client relations manager, Jeanne Hall is calling it a day. It's not that she is tired of writing all those newsletter articles, juggling the LSWG marketing budget, or "herding the cats" for an LSWG community event. …well, maybe just a little bit, since she had been doing it since the turn of the century (1999). Jeanne retired on August 26, 2022. As you're reading this, she is probably kayaking down the Monocacy, biking with the grandkids, or trying to convince her husband, Darrel, that now they need goats and chickens on the farm.