Inside LSWG – Announcing Staff Promotions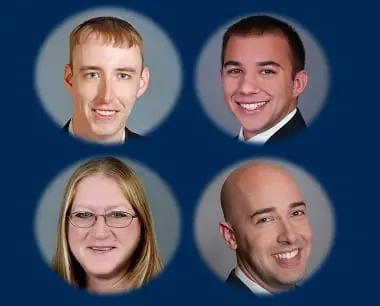 Wednesday, September 2, 2020 – We couldn't be more proud of our team of professionals, and hope you will join us in congratulating the following team members on their well-deserved promotions at LSWG.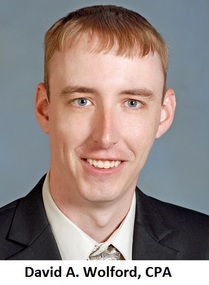 David A. Wolford, CPA, has been promoted to supervisor in the Small Business Services Department in LSWG's Frederick office. David joined the firm in 2014 and provides accounting services to LSWG's owner-managed business clients. A QuickBooks Certified ProAdvisor, he specializes in payroll and financial statement preparation and is a key contributor to LSWG's cloud-based "back office" accounting service. David is a graduate of Frostburg State University and managed a franchise restaurant in Hagerstown before joining LSWG. Born, raised, and currently residing in Hagerstown, David enjoys playing sports and being outdoors–he has hiked over 150 miles of the Appalachian Trail and visited seven National Parks.
Charles A. Ausherman, Jr., CPA, has also been promoted to supervisor in the Tax Department in LSWG's Frederick office. Charles joined LSWG in 2015 and is responsible for providing accounting and tax support to the firm's owner-managed business, nonprofit, and individual clients. A Frederick County native, Charles graduated from Frostburg State University and is a Frederick Community College alum. Currently residing in Walkersville, Charles enjoys playing golf and participating in and following all sports in his free time.
Linda R. Keyser has been promoted to CAS staff accountant II in the Small Business Services Department in LSWG's Frederick office. Linda joined the firm in 2017 with over five years of accounting and operations experience–primarily in the equipment industry. She provides accounting services and QuickBooks support to LSWG's owner-managed business clients. Born and raised in Frederick County, Linda is a graduate of Frederick Community College. She and her husband, Richard, reside in Jefferson.
Brandon A. Crawford has been promoted to staff accountant II in the Frederick Audit & Tax Department. Brandon joined LSWG in 2018 while still an undergraduate student at Mount St. Mary's University–where he earned a B.S. in business in 2019 and he continues to study in pursuit of a Master's of Business Administration. He specializes in the nonprofit industry, and has studied nonprofit management at the Mount and spent two years working at the Arc of Frederick County. Brandon currently resides in Frederick and keeps himself busy reading (Atlas Shrugged is his current undertaking), enjoying Frederick's craft brewery scene (he prefers IPAs), and traveling (the next stamp on his passport: Aruba).