KEVIN HESSLER AND BARBARA ROMAN NAMED LSWG CO-MANAGING PRINCIPALS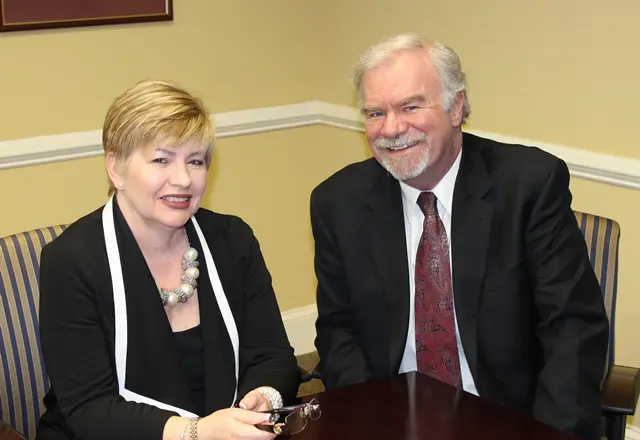 LSWG is pleased to announce that Kevin R. Hessler, CPA, and Barbara J. Roman, CPA, have been named co-managing principals of the firm.
"This is an exciting time for LSWG," said founding principal, Donald Linton, CPA.  "I am extremely proud of where we are today—and excited about LSWG's next generation of leadership.  Mr. Hessler and Ms. Roman have the expertise and energy to stay abreast of the constantly evolving technologies and tools essential for developing staff and serving our clients."
"It is an honor to manage LSWG and work with so many talented professionals and impart my leadership philosophy:  Hire good people; give them flexibility; respect their life-work balance and help them grow and develop," said Mr. Hessler, who joined what was then Linton, Shafer & Company in 1982.  A principal of the firm for over 24 years and a former managing principal, Mr. Hessler specializes in tax planning for professionals and owner-managed businesses, with a particular emphasis in the real estate industry.  He is a graduate of West Virginia University and a member of the American Institute of CPAs and the Maryland Association of CPAs, where he is a past president of the mid-Maryland chapter and past member of the board of directors.  He also serves on the Board of Directors of INPACT Americas, a network of accounting firms through the United States; and is a trustee for the Community Foundation of Frederick County.
Barbara Roman joined the firm in 2002 and specializes in accounting and auditing, managing many of the firm's nonprofit, for-profit, and governmental audits.  A graduate of Shepherd University, she is a member of the American Institute of CPAs, the West Virginia Society of CPAs, and past-treasurer of the United Way of Frederick County; she currently serves as treasurer of the Women's Giving Circle.
"As the pace of society has quickened, so has client expectations in terms of responsiveness," Ms. Roman said.  "This is significantly different than even six to seven years ago.  Co-management allows each of us to serve our clients while leading LSWG.  This is a wonderful step for LSWG.  Having dual managing partners ensures that our clients and staff will benefit from the vision, perspectives, experience, and direct attention of both Kevin and myself.  I look forward to working with Kevin and leading our firm into the future."
LSWG is a tax, audit, accounting, and business consulting firm providing a full range of services to closely-held businesses, nonprofit organizations, governmental agencies, trade associations, and individual clients.  Established in 1965, LSWG is locally-owned and operated with offices in Frederick and Rockville.  The Frederick office is located at 201 Thomas Johnson Drive and can be reached at 301.662.9200, or online at www.LSWGcpa.com.